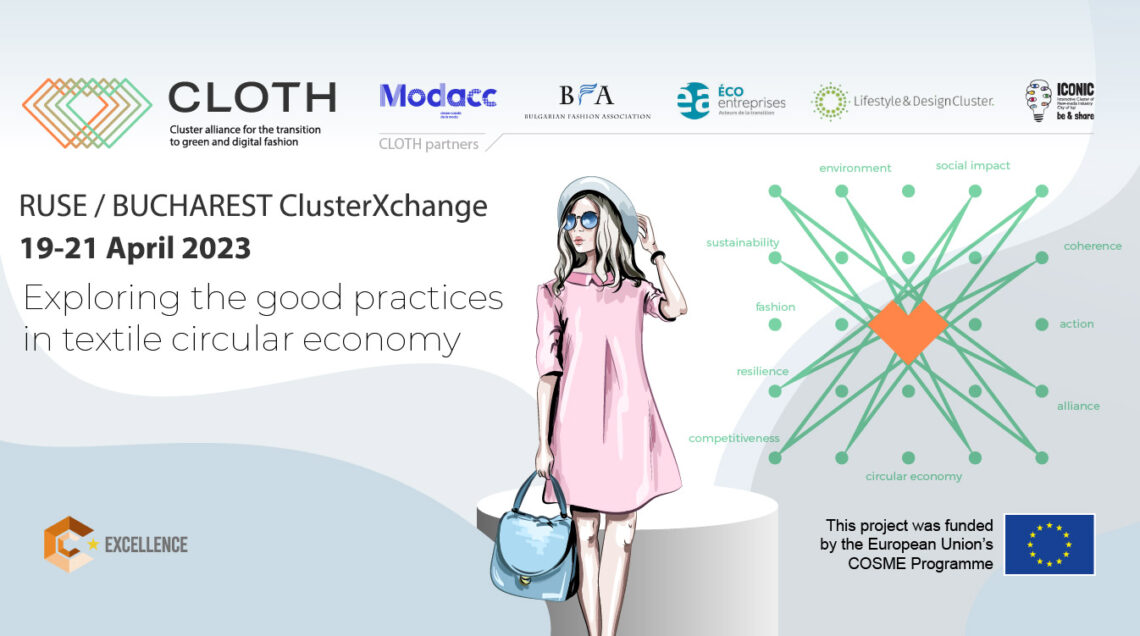 8 foreign organizations will participate in the CLOTH project ClusterXChange in Ruse/Bucharest 19-21 April 2023
05.04.2023
The CLOTH project ClusterXchange visit in Ruse and Bucharest will be held on 19-21 April 2023.  6  organizations, among which SMEs and clusters from Denmark, Spain and Moldova will take part in this short-term exchange in the EU supported CLOTH Project .
5 April 2023 – Ruse / Copenhagen / Aix-en-Provence / Barcelona / Iasi : CLOTH Project, the European alliance which brings together individuals, companies and clusters working on the transformation of the fashion sector towards sustainability and digital is announcing the latest information about its ClusterXchange event that will start in Bucharest, Romania on 19th April and will continue in Ruse, Bulgaria on 20th and 21st April 2023.
The objectives of the exchange are to learn and share knowledge about ethical and innovative clothing production of women's fashion, children's and men's fashion, new business models – made-to-measure, made-to-order and personalization, sublimation printing and print-on-demand. In addition to that, VR and 3D scanner for the fashion industry will be presented and tested. The participants will also learn about Bulgarian circular economy from TexCycle. The company was found as a textile sorting and wholesale enterprise in the year 2000 in Bulgaria and expanded to a group of textile recovery companies, specialized in the collection, sorting, distribution and recycling of pre-owned clothing, shoes, and other textiles.
Among the organizations that will be visited in Ruse are the Ruse Chamber of Commerce and Industry, the University of Ruse, the fashion school "Nedka Ivan Lazarova" and the companies Bulammas, Gabic, Charlino, Fenix 94, offering sustainable and innovative manufacturing of custom clothing and accessories.
At Gabic the participants will see digital sublimation printing, will learn the advantages of dye-sublimation over other methods of textile printing and why sublimation printing is sustainable.
In Bucharest, the participants will visit Gentlemen's tailoring – Shop for custom formal garments for special occasions, the clothing Factory Merer and the conceptual shop APARTERRE.
Placed in a location that is a design experience in itself, APARTERRE is a welcoming apartment-style multi-brand concept store offering lifestyle products expertly curated to a modern aesthetic by the most influential fashion editors in Romania. The most sustainable Romanian brand No44 is sold there.
The ClusterXchange mobility scheme programme aims to facilitate the exchanges of experiences and best practices among SMEs and clusters. Host of the ClusterXChange is Bulgarian Fashion Association and there will be participants from the Lifestyle and Design cluster Denmark and Sorintex cluster from Moldova.
About CLOTH
CLOTH project – CLuster Alliance fOr the Transition to green and digital fasHion – is a new alliance aiming to create a favorable ecosystem of relevant stakeholders, from a cross-sectoral perspective, promoting a greener, smarter and more competitive and innovative European Fashion industry.
The CLOTH project is an integrated cross-sectoral partnership with 5 partners from 5 European countries (Spain, Bulgaria, Romania, Denmark and France) working on different value chains: Fashion and Textile, circular economy, creative industry and Digital.
During the EU supported CLOTH Project will be organized minimum 100 short-term exchanges between targeted members of clusters located in other countries.
The CLOTH project is funded by the European Innovation Council and SMEs Executive Agency (EISMEA), under the powers delegated by the European Commission, COSME programme, call COS-CLUSTER-2020-3-03 / COS-CLUSTER-2020-3-03-1 (European Cluster Excellence Programme with ClusterXchange scheme connecting ecosystems and cities).
For more information: https://clothproject.eu/
DISCALIMER
The content of this document represents the views of the author only and is his/her sole responsibility; it cannot be considered to reflect the views of the European Commission and/or the European Innovation Council and SMEs Executive Agency(EISMEA) or any other body of the European Union. The European Commission and the Agency do not accept any responsibility for use that may be made of the information it contains.
You May Also Like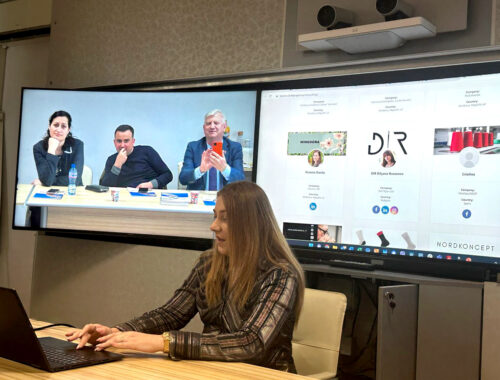 28.04.2023